QED and its employees take great pride in performing at their highest level to achieve company goals and objectives. Being successful isn't easy, but as the saying goes, "Nothing in life worth doing is easy". Being passionate about your job and working together as a cohesive team is a proven formula for success – one that the QED Team fully embraces and employs. The willingness and enthusiasm to do our very best, results in positive feedback and recognition from our customers, business partners and industry organizations.
QED Receives Fifth Nunn-Perry Award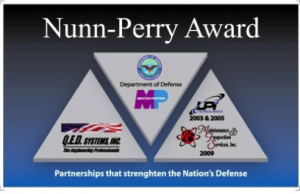 QED is a proud supporter of the Department of Defense (DoD) Mentor Protégé program. Through our efforts, we have been honored with the prestigious Nunn-Perry award in 2018, 2014, 2009, 2005, and 2003. Our company has been recognized for our work with the following protégé companies: LPI Technical Services (twice), a woman-owned small business; AIT Marine, a service disabled veteran owned small business; Maintenance & Inspection Services (MIS), a service disabled veteran owned small business, and Mills Marine Ship Repair, an 8(a), HubZone, veteran owned business.
QED and Partnering Team Receives NAWCAD Award
QED was among team members awarded with a Naval Air Warfare Center Aircraft Division Commander's (NAWCAD) Award on December 2, 2011 in Orlando, FL. The award was given in recognition of the Iraqi 35-meter patrol boat project. The integration team honored Naval Air Warfare Center Training Systems Division, Naval Education and Training Security Assistance Field Activity, and partnering firms. The team was recognized for successful implementation and execution of a high-risk, highly visible acquisition effort that culminated with the initial operational capability of the patrol boat program for the Iraqi Navy. The team delivered the project in a period of eight months from start to finish. This accomplishment directly impacted and supported the transition of Iraqi security from the United States Navy to the Iraqi Navy in December 2011.